(National Sentinel) Dishonor: A black U.S. Navy sailor who claimed that racial slurs were written on his rack has admitted to staging the incident himself, Navy officials said Friday.
Marquie Little, a 27-year-old African American seaman stationed aboard the aircraft carrier USS George H. W. Bush, posted photos under an alias on Facebook Nov. 15 showing his bed covered in trash and racial slurs, the Navy Times reported.
"I proudly serve the Navy and this is what I'm receiving in return," he wrote in the post.
"It's not my first time being called a word such as that," the aviation boatswain's mate said in a phone interview later that month. "It puzzled me as to who would do it and why they would do it."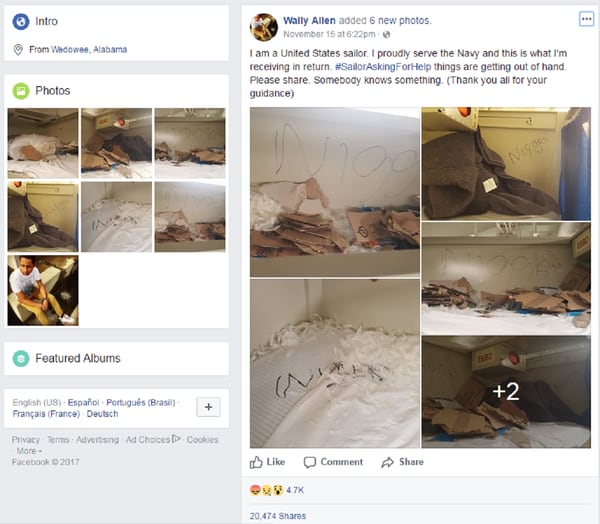 However, on Friday Cmdr. Dave Hecht, a spokesman for Naval Air Force Atlantic, said  that "a thorough investigation" conducted with the Naval Criminal Investigative Service found inconsistencies in the sailor's story.
"A NCIS-supported command investigation following claims of racially-motivated vandalism aboard the (carrier) has determined that the alleged victim staged the incident himself," Hecht told the Navy Times in an email.
"The United States Navy does not tolerate racial discrimination of any form and the well-being of our Sailors is our top priority," Hecht said.
Hecht would not confirm that Little was the sailor in question, but said the guilty party had "received appropriate administrative actions and additional counseling and training."
"He will remain a member of the crew and continue to perform his military duties," Hecht said.
Little denied being responsible for the incident, adding that NCIS had done a poor job of investigating.
"And now I'm to be here looking like a bad guy for attention," Little wrote in a text message. "I have nothing to gain from doing such an incident but I have everything to lose."
Last month, after the vandalism and the Facebook post, Little told Navy Times he feared for his safety.
"Maybe the guy or guys that vandalized my rack would see me out in town," he said. "I constantly have to look who's giving me the side eye."
This incident follows a similar one earlier this year at the Air Force Academy preparatory school. There, five black Air Force cadets claimed that they had been targeted for racial slurs, but it turned out that one of the five committed the act.
Advertising disclaimer: Click here
What are your thoughts?